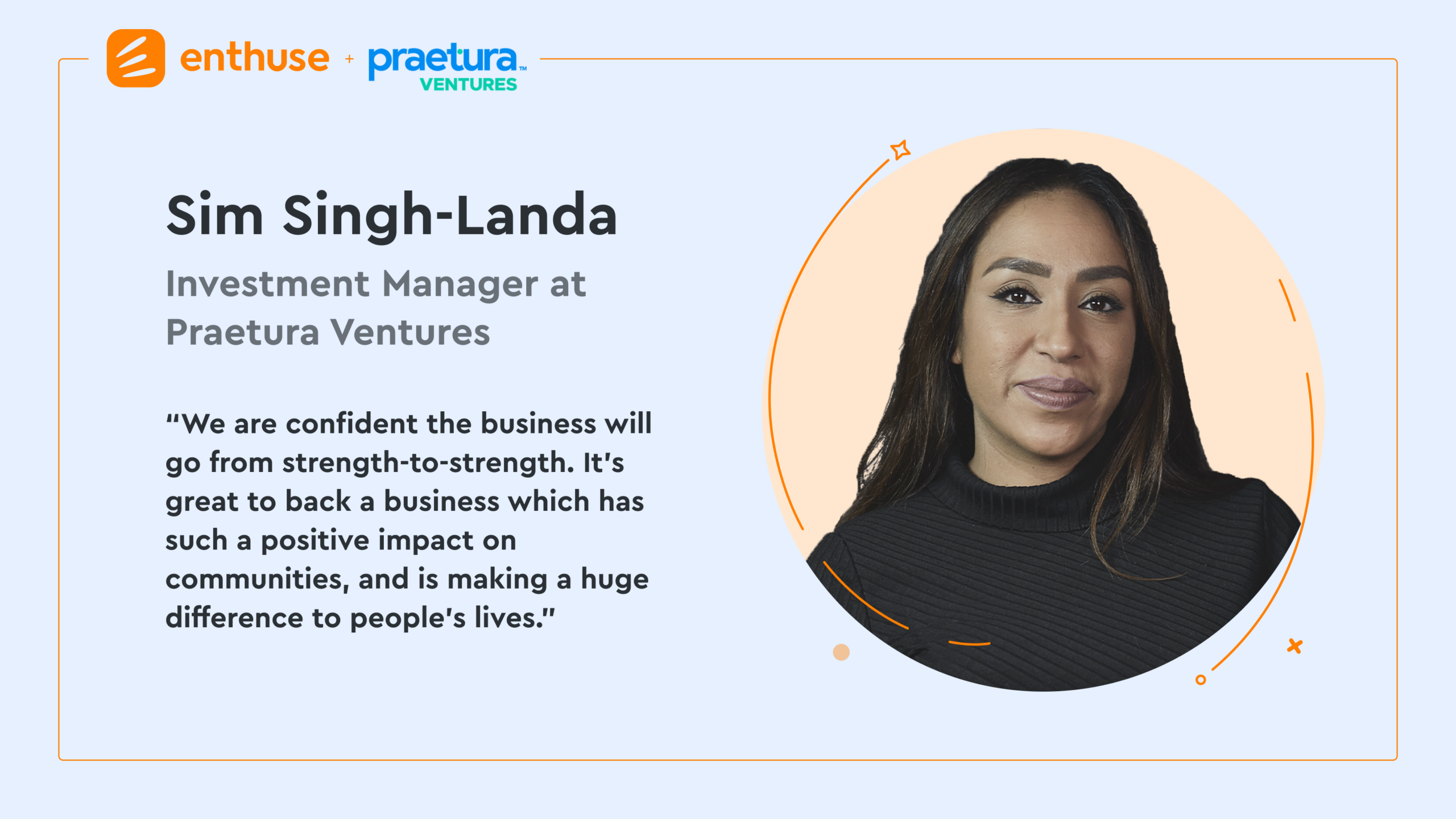 Praetura Ventures leads Series A investment round, taking Enthuse's total funding to £7.5m since 2012
It's been a big week for us here at Enthuse, and we're delighted to be able to announce that we have closed our Series A funding.
Moments like these are a long time in the making and involve a lot of significant decisions but ultimately, after looking over several term sheets in a competitive process, the choice to partner with Praetura Ventures is one we're really pleased with.
The £3.5m round of investment was led by Praetura Ventures, together with existing investors to the business. Praetura Ventures specialises in early-stage businesses in high-growth sectors so we know we're in good hands but most importantly they've really bought into the Enthuse culture.
Putting the funding to good use
So you're probably wondering what this means in practical terms for the business? From day one, we've been committed to transforming digital fundraising by putting charities first. Our products put charities front and centre to enable them to raise more for their cause. This investment will play a crucial part in our journey to be the number one for charity fundraising in the UK and beyond by helping us to grow our offering for the sector.
"From day one, we've been committed to transforming digital fundraising by putting charities first"

Chester Mojay-Sinclare, CEO & Founder of Enthuse
This investment will allow us to develop and extend our product offering, as well as expand into new markets, and double the size of the team from 50 to 100 employees. This means we can continue to innovate to provide the best solutions for the challenges facing charities today, while ensuring there's a greater number of talented Enthusiasts on hand to offer support when required.
"We've been really impressed with the ambition and expertise of the management team at Enthuse. The team has a clear strategy and growth plan, and a real focus on helping charities better connect with their supporters"

Sim Singh-Landa, Investment Manager at Praetura Ventures
As part of this investment, Sim Singh-Landa who led the funding round, will join the board at Enthuse as a Non-Executive Director. Praetura Ventures' Managing Director, David Foreman will also join the board as an observer.
Similar to the shift from retail to eCommerce, the pandemic has accelerated the move to digital fundraising. We're looking forward to being able to help more charities transition to digital through this investment. The team at Praetura Ventures is well known for going above and beyond the capital they invest to truly help their portfolio businesses flourish. It's great to have them on board as we look to significantly expand our fundraising ecosystem.
"The business is well positioned to scale, and with our support will continue to attract leading talent and deliver exceptional customer service to a growing pool of the UK's biggest charities"

Sim Singh-Landa, Investment Manager at Praetura Ventures
Ultimately, this move is fantastic news for us as a business and for the causes we're supporting. We are truly thankful to all the brilliant charities we have worked with this far, as without your trust, we wouldn't be in this position.
If you're looking to maximise your digital fundraising, why not book a demo with us today. If you're interested in becoming an Enthusiast, have a look at our vacancies to see if there's a fit for you.