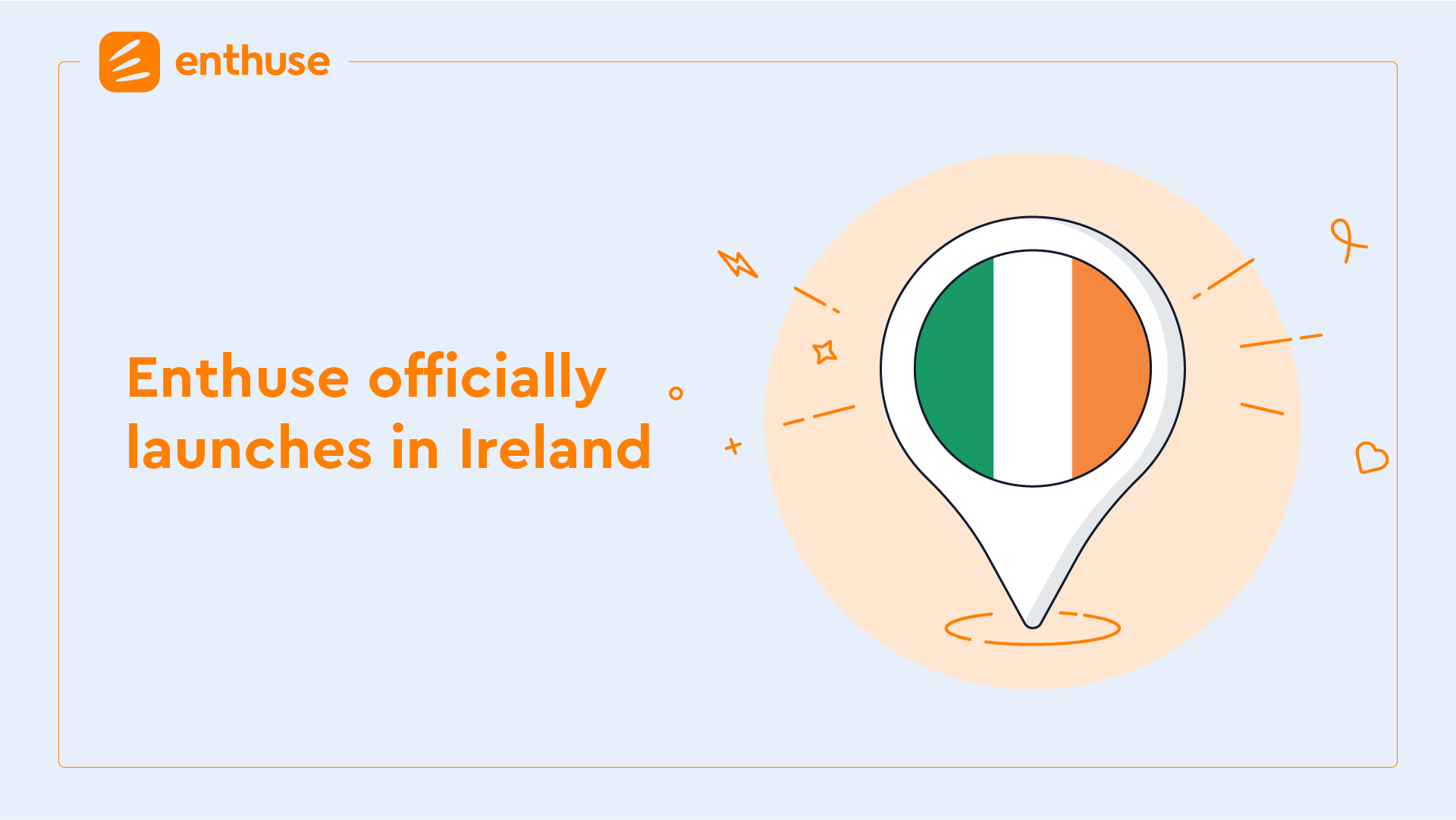 Here at Enthuse, we're incredibly excited to officially announce the launch of our operations in Ireland. Having already helped thousands of charities in the UK to raise millions, we're now looking forward to expanding the number of causes we're supporting by opening in the Irish market.
In recent months, we've built an experienced and knowledgeable Irish team. They've already started working with prominent Irish charities including MS Ireland, Irish Red Cross and Ronald McDonald House.
"Enthuse's proposition is simple. For a flat monthly fee, we provide branded online fundraising tools for charities and fundraising events. We are still relatively new to the Irish market but we are already working with some of the country's most reputable charities. We are now excited to further grow our Irish footprint in the months ahead."

Luke Dixon, Country Lead – Ireland, Enthuse
There are a huge number of brilliant charities in Ireland, supported by a generous giving culture – our aim is to help those charities do more for their cause by maximising their digital fundraising efforts.
To mark the launch of our operations in Ireland, we have commissioned the first ever Irish Donor Pulse – and we felt it was fitting to give everyone a sneak peek ahead of the report going live. For those who haven't followed our UK Donor Pulse series, the quarterly research tracks changing consumer habits and attitudes to charity and fundraising on a periodic basis.
So without further ado, let's look at some of the key findings among Irish donor habits.
Generous giving
An astonishing 87% of Irish adults donated to charity in the first three months of the year, with nearly half (47%) giving to charities supporting Ukraine. According to the research, the war in Ukraine has had a significant impact on Irish people. 38% donated to charities providing humanitarian support on the ground in Ukraine, while a further 23% gave to charities supporting Ukrainian refugees arriving in Ireland.
Tellingly, of those that made donations to charity in the past three months, more than one in five (21%) donated money solely to Ukrainian causes, potentially suggesting a marked rise in charitable donations in the first three months of the year in Ireland.
The causes that resonate with Irish people
Aside from Ukraine, some of the most prominent causes to resonate with the Irish public in the last three months were local community charities (25%), mental health support services (24%), homelessness (22%), children's charities (22%) and cancer research (20%). Other causes to receive donations included:
Animal welfare charities (19%)
Local hospices (17%)
Church or faith-based organisations (13%)
Charities supporting the elderly (9%)
Grassroots sport (9%)
Environmental causes (7%)
Educational charities (7%)
Positive sentiment, despite inflationary pressures
The rising cost of living has emerged as one of the defining challenges for Irish households in 2022, with 80% of Irish adults citing it as their top concern for 2022. In comparison, only 11% referenced Covid.
However, despite this economic backdrop, the fundraising and charitable sector will be encouraged to learn that Irish adults remain positively disposed to donating to charity in 2022. Nearly two in five (38%) state that they were more likely to give to charity today than they were three months previously.
Looking ahead
The last of the Irish Government's Covid-19 restrictions were officially lifted on 1 April. In light of this return to normality, there appears to be a considerable appetite among Irish adults to participate in fundraising events or activities in 2022. Over half (58%) are open to participating in fundraising events later this year, with large group events, including fun runs and sponsored walks proving the most popular.
Amongst those who intend on participating in fundraising activities in 2022, exactly 50% are open to participating in large group activities, while 48% prefer the greater flexibility of being able to complete an exercise challenge in their own time. Other popular fundraising formats include pub quizzes and bake-offs (47%), lifestyle challenges (24%) and gaming events (20%).
The findings suggest that there is less appetite among Irish adults for formal fundraising events, including black-tie dinners (only 13%) or traditional professional networking events (just 7%).
If you're interested in learning more about what Enthuse has to offer for charities in Ireland, you can book a free demo today.
You can read more about thew news in The Irish Post and Journal.ie