With over 60% of UK adults now having had both Covid-19 jabs and stage four of social restrictions set to be lifted on July 19th, people are cautiously looking ahead to what could be a more typical second half of the year.
At the time of writing, the hospitality industry has its doors open to the public, football fans are enjoying the Euros in stadiums at reduced capacity and domestic overnight stays are permitted. The question of how comfortable people feel in utilising these opportunities however is still in question even if the Government has given the green light.
With that in mind, what do the coming months look like for charities in regard to event fundraising? Will virtual reign supreme or will physical events be back in a big way?
It's the taking part that counts
While there is of course appetite from the public to get involved in fundraising activities, people are still largely uneasy about taking part in physical events, and to some extent virtual events, too. Research from the most recent edition of Donor Pulse tells us that nearly three quarters (73%) of the public have some concerns about taking part in mass participation physical events for the foreseeable future.
There is much less concern about virtual and hybrid events, with 45% of people open to taking part under that format. That said, a key takeaway here is that even with restrictions being loosened in the months ahead charities will need to reassure participants about being able to take part safely. One route to tackle this is to hold smaller in-person events as pilots to start to build supporter confidence in getting involved again.
Virtual events look set to be a fundraising mainstay even as the public gradually opens up to the idea of physical events but it's clear that charities can't rest on their laurels. It's important that virtual or hybrid events remain fun and engaging, too.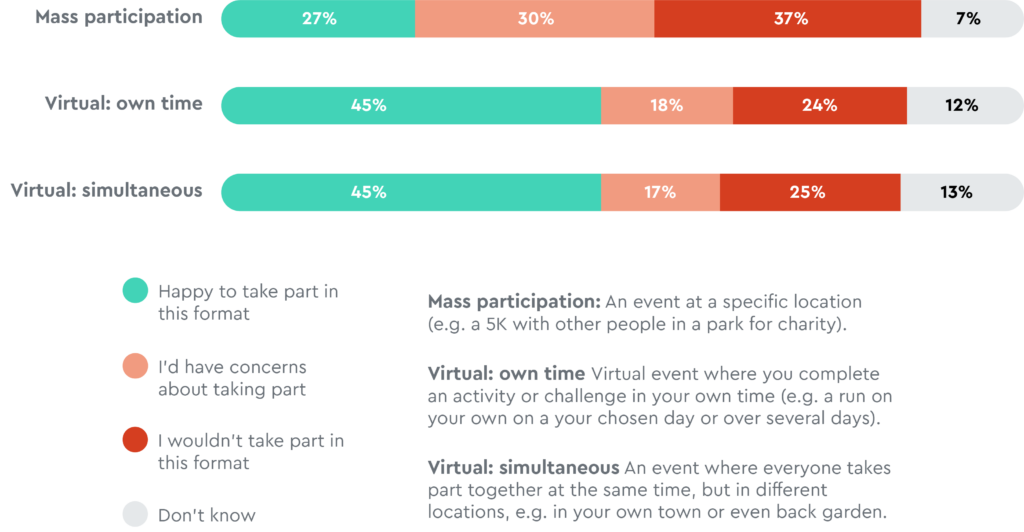 Appetite by age
Looking at how this tracks across age groups, our research shows that the 'fun seeking supporters' – Gen Z and millennials – are far happier to get out and take part in physical events, and indeed any format of fundraising event. This is particularly marked in 18-24 year olds with two in five happy to take part. Once past the age of 40 though there is a notable drop in the willingness to take part in physical events, with only 19% of 40-54 year olds comfortable with them. These 'play safers' would rather avoid taking part in events in person for the time being, preferring virtual alternatives instead.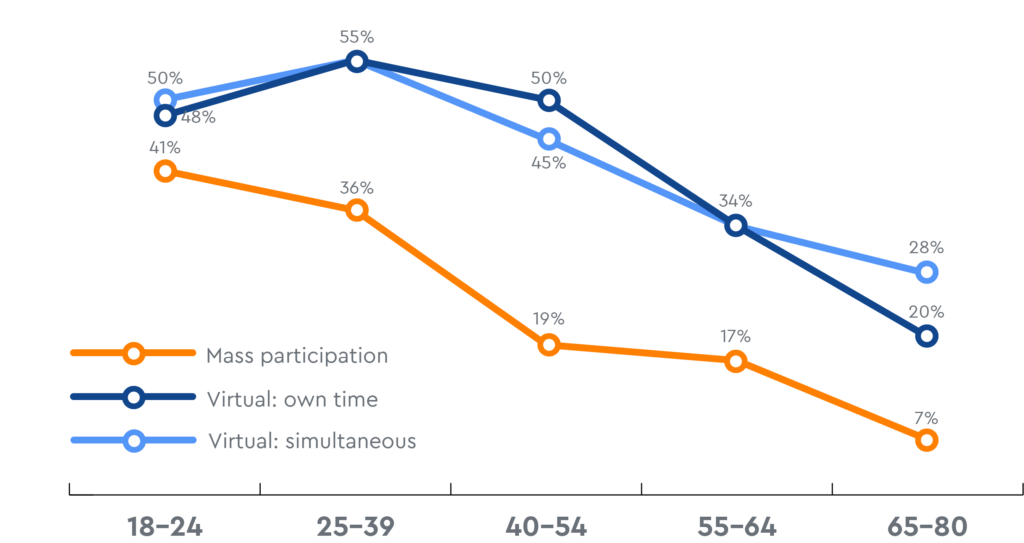 While younger age groups always tend to make up a significant percentage of participants at fundraising events, these differences are more considerable now and are something charities need to factor into their planning for running physical events. Fundraising events will need to cater for both 'fun seeker' and 'play safe' supporters.
Understandably, 'fun seeking' Gen Z and millennials enjoy the buzz of mass participation events. For charities looking to build out their plans for the second half of the year, hybrid events may prove the best route to securing the broadest participation, alongside smaller pilot in-person events.
Focusing on those interested in taking part, the most recent Donor Pulse indicates that more than half (52%) said they'd be encouraged to take part if they had the option to do so virtually as well as physically for an event. This is important across all groups, but makes a significant difference for 18-24, 25-39, and 40-54 year olds with more than half of each group saying it would encourage them to take part. This is worth noting for charities when planning as the flexibility offered limits the risk of participants dropping out.
Planning for success
There are signs of the UK slowly returning to relative normalcy in some areas, which should provide encouragement for charities who are looking to open up physical event fundraising again. It's clear from our donor insights however that it won't be as simple as switching from virtual fundraising back to physical.
Going forwards, charities would do well to plan for the preferences of the different demographics within their supporter base. Offering fun, in-person events for the younger generations will likely be beneficial but this should be complemented by the option of a virtual alternative for those who want to play it safe. Running these in tandem will ensure charities maximise their fundraising income.
If you're looking to bolster your event fundraising, then check out our event registration and virtual events pages for more detail.
Stay tuned for insights from our Summer edition of Donor Pulse later in July.