The latest edition of our quarterly donor research, Donor Pulse, covers a wide range of trends and insight into supporters' thoughts about charities. Against the backdrop of the pandemic, one of the most interesting areas this quarter was around the swift shift to digital fundraising, and the rapid acceleration away from using cash.
Only two out of every five people have made any form of cash donation to charity since the pandemic started last March. Cash use has been steadily declining for a number a years as people switch to contactless and credit cards. But this has accelerated significantly in the last year with ATM withdrawals at around 60% of the level they had been at in 2019, according to Link ATM network stats.
A year is a long time for the public to have not used cash for donations, and this has had a fundamental impact on how people want to give. Just a quarter (26%) of the public want to use cash for donations in the future, with the majority (51%) now choosing online as their preferred route.
Cash has been decreasing in popularity as a payment method long before Covid, and the shift in habits during the pandemic means it's unlikely people will move back when it comes to their preferred ways of donating. This may well be the end of the traditional donation box.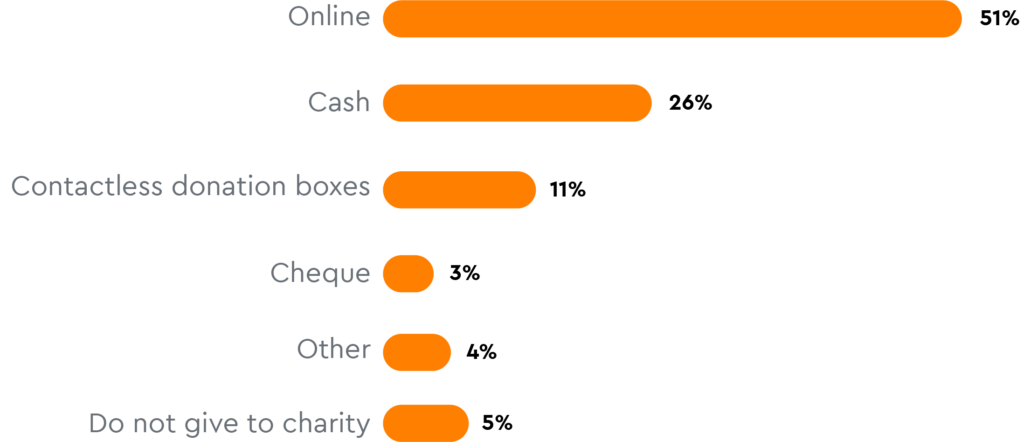 Gen Z and millennials driving online giving
The shift away from cash is also reflected in how people have been giving over the last three months, with 40% of the public making donations online. This is similar to the previous three months, with the slight difference over the last two quarters mainly down to a drop in online giving from 55-64 year olds from 29% to 22%, and a smaller decrease from 40-54 year olds.
18-39 year olds have continued to rank highest and account for a similar proportion of online donors across the three waves of Donor Pulse research. Despite some fluctuations, there is consistency across the three sets of quarterly results with online donations making up two fifths of giving. This significant proportion underlines how critical it is for charities to make it as easy as possible for supporters to donate to them online. Seamless supporter journeys, postcode look up for addresses, anonymous giving, and multiple payment methods including mobile focused ones like Apple Pay are all important elements to help make transactions swift and frictionless.
Direct donations up, brand recall up
This is particularly important given the shift over the last nine months of donors away from consumer giving platforms to donating directly on charity websites. Direct donations have risen from 40% during the initial lockdown to 48% during the last three months. Similarly donating via consumer platforms has dropped from 47% to 42%. Part of this change may be down to there being less mass participation events, and the public focusing more on donating to charities they care about rather than ones their friends are doing runs and other events for. This makes it even more critical for charities to offer donations and fundraising through their own websites to ensure they are not losing out on donors looking to contribute to their cause.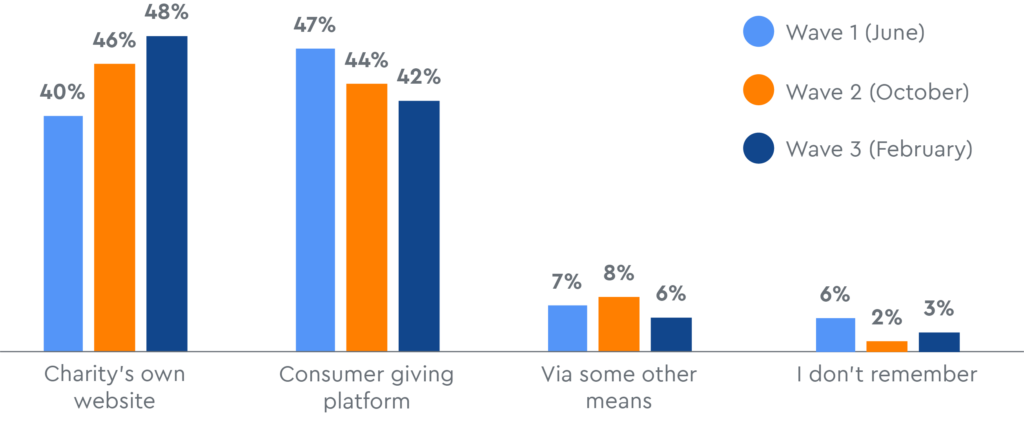 The increase in donations made directly via a charity's website correlates with an increased number of donors able to recall the charity's name after donating, with the 8% rise in direct donations over the last nine months nearly matched by the 7% rise in brand recall over the same period, as shown in the below graph. This is a gradual reverse of the issue of 'give and forget' where supporters struggle to remember the name of the charity they have last donated to, when donating via consumer giving platforms.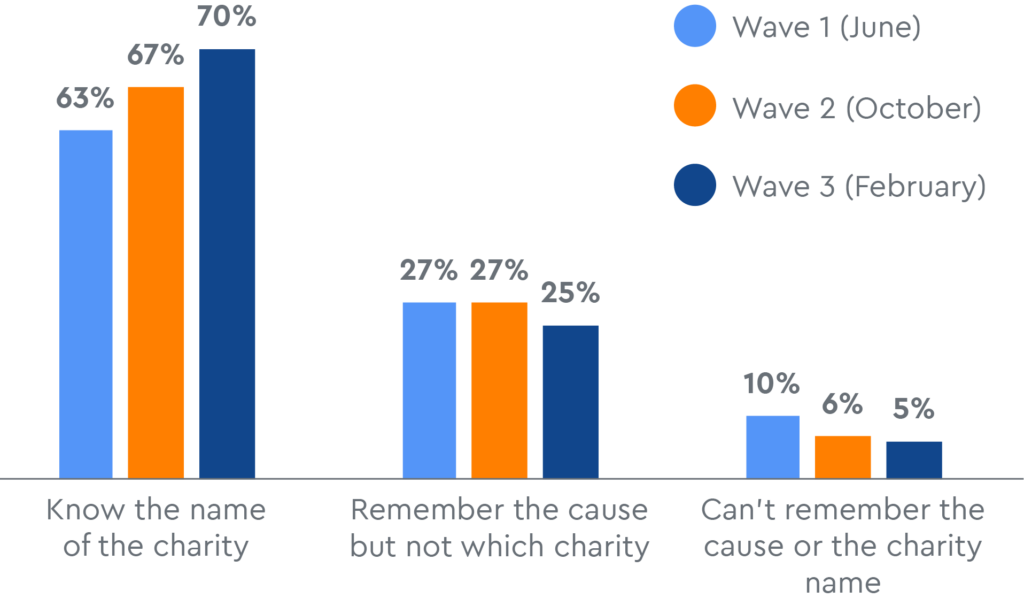 Looking at brand recall by the platform used demonstrates the difference. 78% of donors giving directly to the charity can remember the name of the organisation compared to only 63% using consumer giving platforms. The difference of 15% is significant, particularly for charities looking to convert one-off donors to regular givers. One of the key reasons for this difference is that donors think charity logos and colours are just not clear enough on consumer giving platforms – 37% stated this as a reason for not remembering the charity's name, up from 29% three months ago. This underlines the importance of brand when charities are developing their fundraising strategies.

The pandemic and lockdowns have driven supporters to digital giving, and this has become habitual with just a quarter of donors wanting to use cash in the future. Charities need to be planning for this change as a permanent one even as lockdown continues to ease. Investment in websites will be critical as well to make it easy for people to give directly and see the charity's brand front and centre – helping to also improve long term giving opportunities.
If you're interested in improving your website donation flow to maximise your digital fundraising efforts, why not book a demo today?